Strictly Striping provides the best and highest-quality services for parking lots that you'll find in the Columbia, SC area. From parking lot maintenance to parking lot striping, we can do it all.
Our services are available for both new parking areas and existing ones. For new lots, we offer consultation and design services so that your parking spaces and traffic flow will be easy for drivers and pedestrians to understand. But even the best parking areas will need upkeep over time.That's why for existing lots, we offer ongoing maintenance services such as redesigns and restriping. Every part of our job is meant to make your parking lots easy for people to understand and use. Entrances and exits will be clearly marked, crosswalks will be included in appropriate places, ADA parking will be available, and the area will be free of potholes.
Here is a partial list of the parking lot services offered by our team at Strictly Striping:
Parking garages
Parking decks
New construction
New layout
We use the latest equipment and industry-leading practices to deliver excellent results. Our goal is to do every job right, right from the start. We promise that you'll be 100% satisfied with everything we do. You won't have to call for us to fix things after the fact or re-do the entire job. After we're done, you'll have a beautiful, smooth, clean parking area for everyone who comes on your property.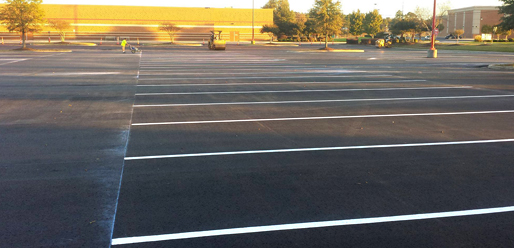 If your parking lots don't look as good as they should, don't delay! Every day you put off making these repairs increases the chances of accidents and dissatisfied customers. Contact Strictly Striping so we can get to work. We welcome business from commercial and industrial facilities, apartment and condo complexes, retail developments, medical practices, churches, and schools. But no matter what your parking needs are, Strictly Striping can help.