The team at Strictly Striping strives to give the best services possible to all of our clients in the Columbia, SC area and beyond. This includes one of our main services, asphalt repairs.
Since we've been in business for over 20 years, we understand the exact requirements for your asphalt repairs. No matter what you hire us to do, we'll get the job done right and in the right way. We promise that you'll never have to call us back to fix or re-do a job. How can we make such a guarantee? It's simple. We have the best equipment and the most skilled employees in our area. That means we can handle just about any type of project involving asphalt. We'll make sure that your parking lots and other paved areas give the public the best possible impression of your business.
Here are just a few of the asphalt services provided by Strictly Striping:
Asphalt patching
Speed bump repairs
Pothole repairs
Handicap ramp repairs
Curb repairs
Crack sealing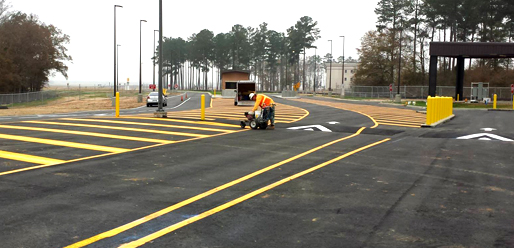 If you're looking to improve the appearance of asphalt-paved areas on your property, call Strictly Striping. Our staff is ready to help you solve any issues you may have. If you aren't sure what type of work you need done, it's no problem. Talk to us and we'll give you our expert recommendations. Plus, we have the people and equipment to get the job done fast. Our team is on call 24 hours a day, seven days a week for jobs in the Columbia area, as well as throughout South Carolina and the entire Southeastern United States. Contact us today to find out why we're one of our region's most trusted providers of these types of repairs.